With the exception of installing the proportioning valve, I finally have the conversion buttoned up. I did have a challenge regarding my wheel bearing preload. When I put the hub and rotors on my pre-load was well over 20lbs. The spec should be much closer to 12. I took the rig for a short ride (maybe 5 miles) and when I put my hand to the hubs they were hot, very hot. I was very certain that I had all the parts in the right place, I had checked and rechecked everything when I encountered the high pre-load.
I was a bit stumped, but the more I thought about the parts involved it occured to me that I had reused the claw washer and nuts from the FJ60. At one point I had considered getting new ones, because it was clear someone had used the chisel method of removal/tightening - but decided they were ok. In retrospect, it should have been obvious these needed to be replaced with new. Here is a picture of the old claw washers.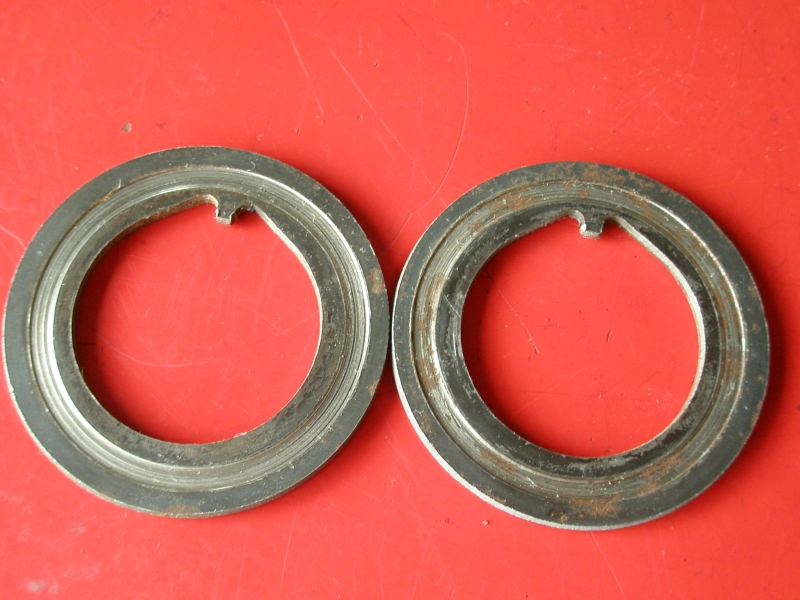 Notice the groove made by the old bearings. This groove is what was causing my tight bearing pre-load. The groove allowed the washer to put more inward pressure on the bearings. After replacing the claw washer and nuts with new ones, my pre-load is right on spec. If you do a front axle job and replace your wheel bearings, I would recommend you also get new claw washers.