The Deka 9A34R:
http://www.dekabatteries.com/assets/...rdeepcycle.pdf
http://www.dekabatteries.com/assets/base/1143.pdf
Quote:
IMPORTANT CHARGING INSTRUCTIONS: WARRANTY VOID IF OPENED OR IMPROPERLY CHARGED. Do not install in a sealed container. Constant under- or overcharging will damage any battery and shorten its life! Use a good constant potential, voltage-regulated charger. Charge to at least 14.4 volts but no more than 14.6 volts at 68°F (20°C). The open circuit voltage of a fully charged 12-volt AGM battery is 12.8V at 68°F (20°C). As the battery charges, the building internal pressure (voltage) causes resistance to the charge. Therefore, the on-charge voltage must be higher (at least 14.2V) to overcome this internal pressure (voltage) during charging.
According to this user manual:
https://noco-thenococompany.netdna-s...user-guide.pdf
12V NORM mode is 14.5V at 7.2A
12V COLD/AGM is 14.8V at 7.2A
12V AGM+ is 15.5V at 7.2A.
Of those 3 the one that I would select would be 12V NORM. I don't know what the algorithm is or what the stated values mean, but it's possible that the 12V COLD/AGM would be right but only if the charger is smart and doesn't overcharge to 14.8V, which may be damaging to the Deka.
Charging profiles will indicate correct voltage and current through the cycle, so a smart algorithm would monitor both and switch between constant voltage and constant current through a 3 or sometimes a 4 step profile. The per cell values are also specified at a temperature, usually 25C, and may have to be adjusted if it's warmer or colder. In the winter you may be fine using 12V COLD/AGM with the Deka but in summer perhaps not.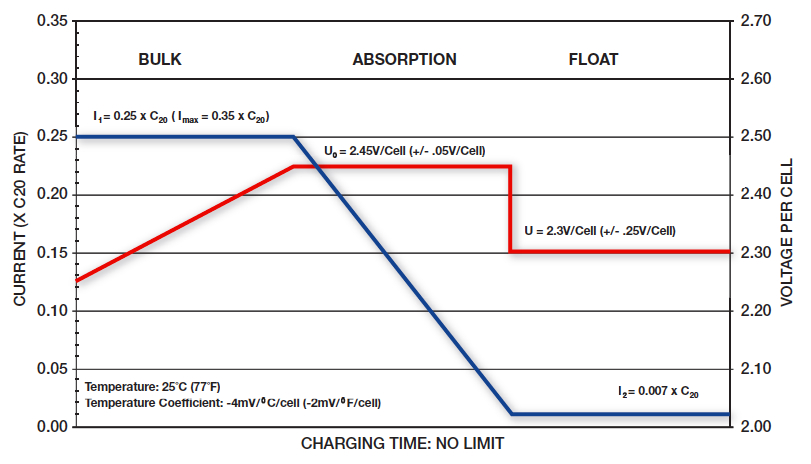 FWIW, the Optima Red Top can tolerate 15.6V for a rapid recharge cycle with the stipulation that the battery temperature never exceed 125F. So the 12V AGM+ mode may be appropriate for that. Normal float and cycle charging for the Red Top is a max of 15.0V, so for that I'd select 12V COLD/AGM. Even though a battery such as this says it can tolerate 15.6V I'd still not use the mode for it, it's generally not a good idea to abuse batteries like that. A rapid mode is something you may see used with infrastructure UPSes, fire trucks and cop cars where they're not as concerned that they have to rotate batteries on shorter schedules.
http://d26maze4pb6to3.cloudfront.net...pecs_Sheet.pdf