Bullet Hole on March 5th, 2000


"Aaaaaa - Youíre really not going to go that way are you?" This was a question asked of me by my uncertain, but brave, passenger, Sheila Toothill, on a recent Hard-Core trip. The trail was called 'Bullet Hole' and itís located near Boulder in a designated OHV area.
Because of a bad case of Cabin Fever I decided the only cure would be to get the rock Cruiser out of the garage it has been sleeping in all winter and stretch itís muscles back to life. A quick cyber trip to the Rising Sun Calendar to post the plan along with a couple of e-mails and phone calls the trip was planned. As the word spread the group grew.
The rigs started showing up the south parking lot of the Crossroads Mall, right on time. I kept quiet about a couple of guests I was expecting, as I knew it would be a surprise for the rest of the group. The surprise guestís I knew were coming were the infamous Capín Crunch (Greg McNeil) in his bashed but very trick mini truck and Venezuelan friend Adrian Vera in his ultra trick, expedition set up, FZJ-70.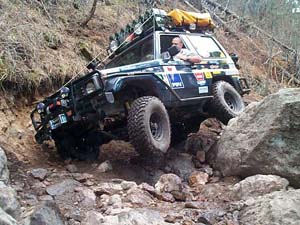 Adrian Vera

The group was a gnarly one and was attracting attention from passing motorists. In addition to Adrian and Greg, the group of thrill seekers was Dave Brown (Red Fox), Bruce Miller (3 Dog) with daughter, and myself (Uncle Ben) in FJ-40ís. Don Reece (Suzy Sam) in his tough Samurai also showed up for fun. We also had three other friends show up to watch the rock toys defy gravity. Those folks were Chris Colangelo (Clifford) with daughters, along with Bruce Lawson in stock FJ-60ís and Brett and Sheila Toothill in their pristine and rare í87 BJ-70. After introductions and hand shakes the motley crew headed to the trailhead for battle.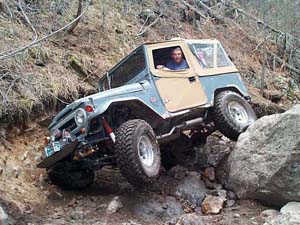 Bruce Miller aka "Three Dog"

After a quick air down of tires at the trailhead it was decided the stock rigs should be parked out of harms way just past the shooting area that gives the trail itís name. There is one small obstacle to cross first and although it was a slight challenge for the completely stock vehicles every one made it across with no incident. The three awesome examples of stock Toyota art were parked safely and up the trail we preceded.
'Bullet Hole' is a relatively new trail created in cooperation with the Forest Service in a designated public OHV area. The trail is fairly short but is obstacle rich. The challenges are all different rock formations in a seasonal creek bed. For the ill equipped the entire trail could be considered one big obstacle but for a purpose built rock rig the trail basically has 5 decent challenges.
The first obstacle is a route through a boulder-strewn chute with a small waterfall thrown in for fun. A good line taken will seem fairly easy but a few inches to one side or the other will result in the rock coming alive and holding on to the unsuspecting vehicle. Our group made it through the sleeping rocks quiet well.
The second mentionable obstacle has two options. The main option is a huge off camber climb up a very steep slab of solid rock. Wet tires and sand challenge the traction of your rig and keep things interesting as you claw you way up and over. The other option is to drive up the slab then back down into the creek bed. Once at the bottom a mean and nasty waterfall stands waiting for a battle with driver and machine. The rocks will put up a good fight and if they are losing they will enlist the help of a close tree to increase their odds of victory. This day the machines won but not without the tree getting some minor licks in with left front fenders. Adrian chose to take the slab route as his carbureted FZJ was complaining about too many (over the hood) water crossings by refusing to run at low RPM.
The trail from this last obstacle to the next challenge is fun as it has many small attractions to keep the adrenalin flowing. When you conquer all these 'little' baby rocks you come to 'Big Momma!'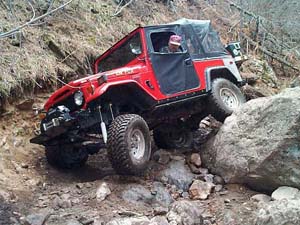 Dave Brown aka "Red Fox"

Imagine a trail deep in a narrow canyon with a van-sized rock blocking the way. The water has found itís way around the boulder by eroding the already steep dirt bank. The line between the boulder and the steep dirt bank doesnít look or feel right as you travel up it. Fortunately the rear tires will slide around the base of the rock at just the right time so the front tires can grab for traction on the top and pull you around and up. Of course just when you think itís smooth sailing the left rear tire falls off a rock on the bank and your right front tire reaches for the sky to wave at the cameraís. Big fun and grins for all!
Now that the group of six conquered 'Big Momma', Adrian decided his clutch needed a rest as it was being used to keep his wheel speed down while his RPMís were high from the stubborn carburetor. He found a good place to safely park his incredible beast on some rocks so other trail users could pass easily. He then walked the trail to the next and final two obstacles with the rest of the spectators to watch the final battle on the way up the trail.
The last two challenges are very close to each other. The first section is a big rock that is about 30' to the side of a huge rock. The rocks are very smooth and the wet and sandy tires will not stick to them, as the driver would prefer. One by one the mechanized soldiers worked across the offending rocks in a line the operator thought best. The rocks proved to be smarter than anticipated and tossed and leaned the vehicles in very unexpected ways. Suzy Sam was certain that the narrow track width of his Sami would allow him to sneak by the rocks unnoticed. To his surprise the smaller of the two boulders lashed out and grabbed on to the skid plate and differentials of the not-stealth-enough little truck and held tight. Fortunately, the thrill seekers of the group refused to give the rocks any reinforcements in the form of stacked allies. Instead, human brute strength and a lightweight rig prevailed and the Samurai was lifted off the rock warrior. Not to be whipped Don attacked the rocks again and won the battle.
The last obstacle was of little challenge to the group and it was decided that the uphill battle was won and a victory lunch was in order. After a feast of cold sandwiches, cold pizza, and assorted carbonated drink, the group was ready to sneak up on the battlefield from the other side. Down we went through all the obstacles taking different lines as gravity was in our favor.
Many photo opportunities were had as we conquered everything with relative ease. When we came to the very first obstacle at the bottom of the trail we found it constipated with a full size Chevy Blazer. The rocks were obviously mad and took the young novice and his near stock ride for hostage.
As the unfortunate drivers buddies were gathering fill rocks I tossed a strap down to the fellow adventures. With the front bumper of Wild Rice tied 30í away from the front hook on the Blazer I attempted to pull the trapped big Chevy out. The rocks held on tight and the heavy Chevy groaned and wiggled but it was not enough and the dreaded metallic 'POP' sound came from the right front wheel of Wild Rice. The broken Birfield etched out the rest of my adventure for the day. Luckily, I was able to drive out in rear wheel drive with few problems other than a very limited turning radius to the right. After airing up at the trailhead and good byes were said I cautiously drove the wounded Cruiser home with no problem. I had a spare Birfield on board but luckily itís one that I didnít have to install on the trail this time.
Thank you to all that attended! I hope you all had as much fun on this early season rock run as I did!


Ready to 'Rock' again!
Kevin (Uncle Ben) Ehrlick