Spring Creek Trail July 2000
By Jeff Zepp


It's been nearly two months since Moab and the wheeling bug was biting again. The rest of the club was doing the hardcore run, Independence Trail, but we were looking for something a little more reasonable in a stocker. Rob Meredith had suggested Spring Creek Trail when I had asked him for suggestions for wheeling on Mother's Day. We had tried it then, but there was too much snow to go all the way up and we had turned around part way up.
This time, the snow had melted enough to go the whole way. My friend Scott was eager to test his 2000 4runner with factory rear locker and my '40 was itching to hit the trail again. We met at the Conoco, and at the trailhead met a guy who was camping with his family in his Scout II who stopped by to chat while we aired down. Turns out he knows Greg "Captain Crunch" McNiel, and has wheeled with him before.
We headed up the trail, the first parts were fairly mild, a few rocks here and there and some tight switchbacks, but nothing too challenging. We got to a clearing where, last time I had been up this trail, we had explored several different fun little trails that led off to various mines. We continued up the main trail to the first real obstacle, a decent sized rock ledge with several interesting lines that could be taken. After I made it up, I radioed to Scott that I would stop and photograph his ascent. He stopped at the bottom and asked which line to take, so I spotted him up, and got a shot or two of his stock runner clambering up the granite.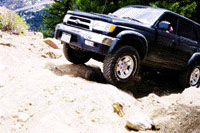 Next up were some odd-spaced dirt whoop-dee-doos spaced just perfect for spinning wheels if you didn't have enough momentum. We both made it across this without difficulty, but Scott confided later that he had engaged his rear locker for this just in case.
Farther up we came to the real challenge of this trail, a steep boulder-stewn hill that had been chewed up pretty well by those who had been up recently. By this time we had been been joined by a couple of other rigs, a Ford pickup, a cherokee and a lifted and locked blazer with 38 swampers. There was a bypass around the most difficult section, but after Moab I have been raised to a new awareness of a stock Land Cruiser's capabilities. No guts no glory, right?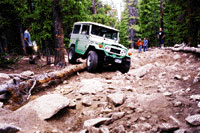 Open diffs, 31s, 29 year old stock springs and shocks, stock F and 3 speed...COWABUNGA!!! I made it over the first few boulders with only a little scraping and pounding, then my planned line was to drag my rear diff across one boulder while I pulled over it by wheeling over another boulder with the front tire. Problem was, the boulder in the front wasn't planted real well and the torque from the front tire rolled it out and under my front diff. So there I was with both front and rear diffs on top of boulders, and all 4 wheels in the air.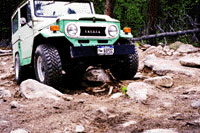 Out came the HiLift and with the help of gravity I was able to back out, get a different line through the newly rearranged boulder field and continue on up the trail.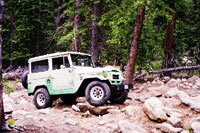 The guy in the Blazer, a crane operator, was an excellent spotter. The rest of the group took the bypass, which was no cakewalk either. Even though that stretch was the most difficult, there was a long ways of steep and rocky climbs after that, and my buddy Scott was trying to avoid a rock and ended up catching his front bumper on a tree-end which had been cut for clearing the trail. While he was trying to figure out how to explain the damage to his wife, I offered that it would be an excellent opportunity to replace the stock, DOT-approved crumple-zone bumper with a real bull bar. Overall though, his stock runner proved a capable rig.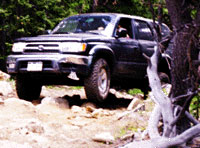 When we got to the top and had lunch, the views were spectacular. Oh what a feeling! The way back down to Georgetown was easy, but with beautiful views. There was a mild water crossing, maybe a couple feet deep, but if it hadn't been for the dry spring we have had it might have been a challenge. My only casualty was my CB antenna, threads stripped out from all the wild swinging of the base spring.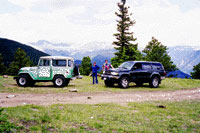 This is about a 4 hour trip from trailhead to trailhead, fairly close in to town. I will look forward to running this trail again soon with some of my Rising Sun brethren!


Jeff Zepp