Spring Creek Trail 2001
By Scott Yoder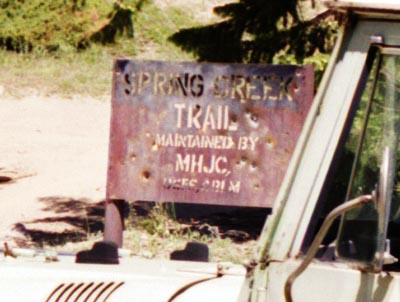 It was set - a Fathers Day 4x4 run up Spring Creek. Our trail leader would be Jeff Zepp. As soon as Jeff announced it, I knew I would be there. And would hope that my father could join me as well. Jeff took me up last year (2000) on my first run with my new 4Runner. It had left me with a damaged front bumper. With my new bumper and winch recently installed and more experience behind me, I was ready to tackle this trail again. It would prove to be even more challenging this year.
The day's line-up was as follows in order on the trail:
Jeff Zepp & his daughter Jenny - 1971 FJ40 (locked in rear)
Scott Yoder and his father Ezra - 2000 4Runner (locked in rear)
Gene Wolfe, kids, & friend Rich 1982 FJ40 (no lockers)
Glenn Carpenter 1983 FJ60 (no lockers)
Neil Quigley 1976 FJ40 (lifted and locked front and rear)
Neil's friend and girlfriend - (Lifted Jeep with lockers)
Rob Meredith 1960 FJ25 (lifted and locked front and rear)
Bruce Minney 1964 FJ40 (lifted and locked in rear)
7 rigs total. However, Bruce encountered EFI problems en route from our meeting place to the trailhead and was unable to make the trip.
The day was hot and dry. Spring Creek Trail consisted of 3 main obstacles that day. 1)The bottom hill. 2) A nasty, unavoidable miniature rock garden near a switchback, and 3) the main rock garden near the top of the trail.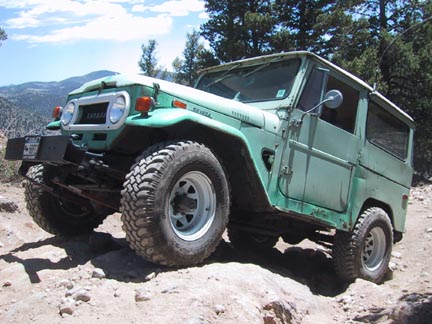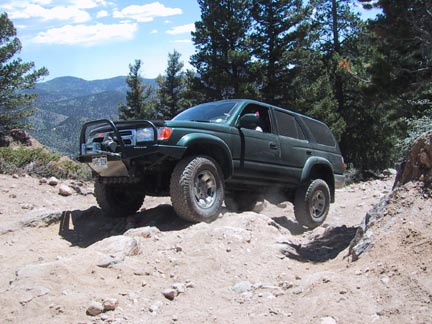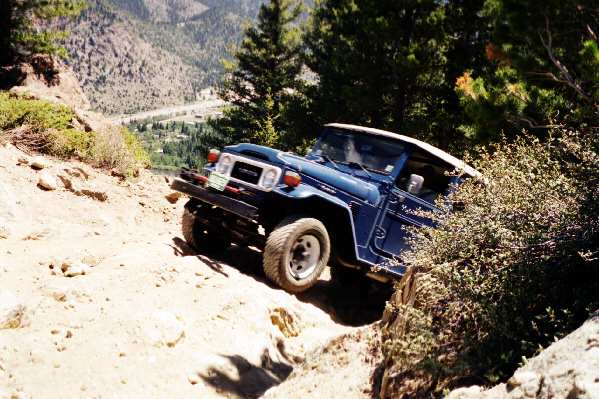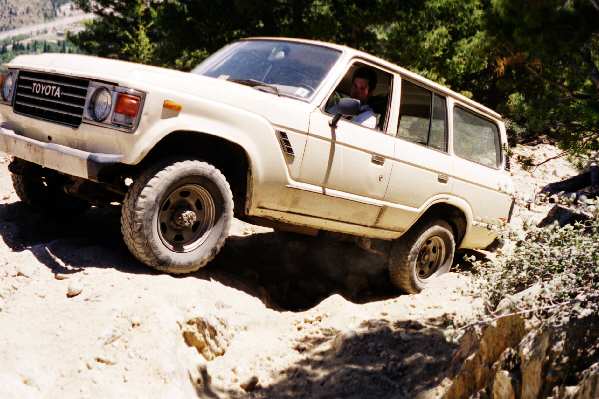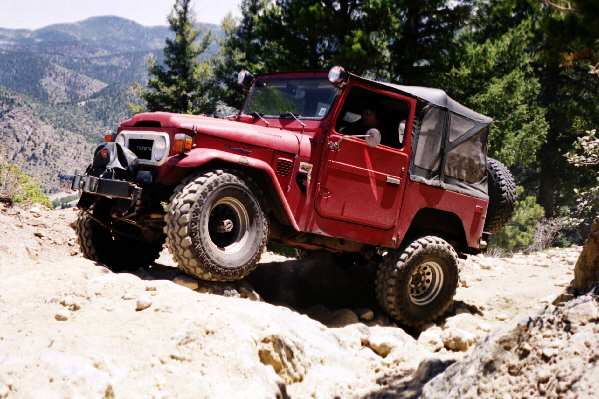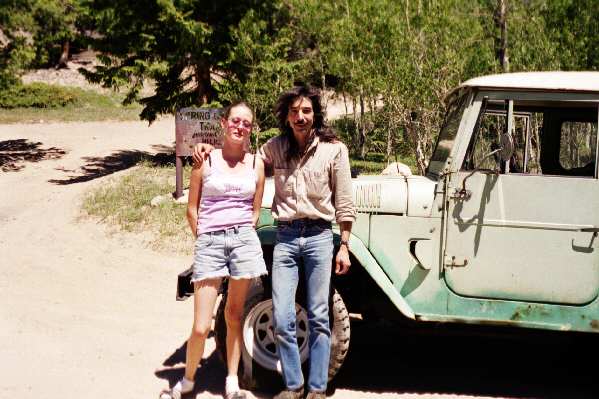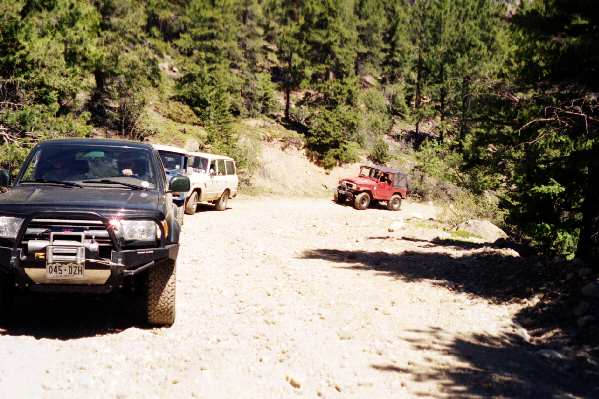 The bottom hill didn't prove to be too difficult for us. The stock, unlocked Cruisers were able to use a little momentum to easily get through. The lifted and locked vehicles showed us how they were going to crawl up and over any large obstacle with ease today. Having electric lockers in the rear I could have taken it a little slower, a problem I was determined to overcome on this run (my low gear is ok, but not as low as I would like it).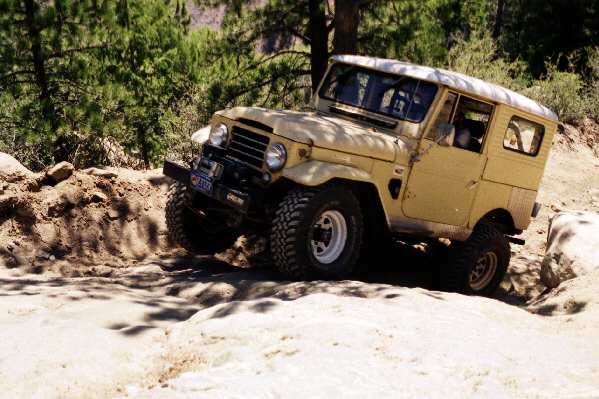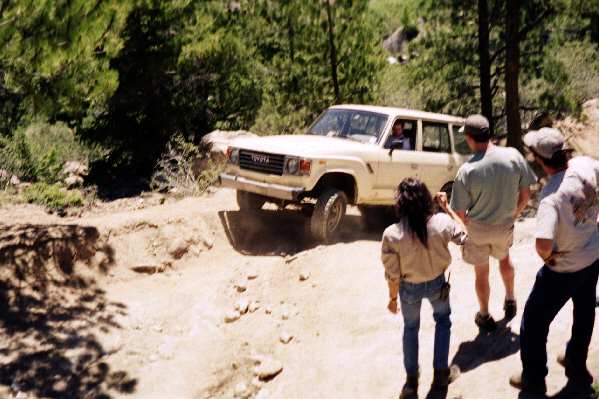 After we were all up the hill, we started to watch what looked like a heavily modified jeep, attempt the hill. He had some kind of engine trouble, and didn't get very far. We never saw him again. There was also and older, built-up Bronco that seemed to really struggle. Anyway, it was time to get back in our rigs, continue up, and clear the traffic jam that was being created behind us.
The next obstacle occurred right after a switchback two thirds of the way up. This was much worse this year. Like the rock garden, most of the dirt was chewed up and washed away, leaving only jagged rocks and small to medium size boulders. We all got out and tried to determine the best line to take.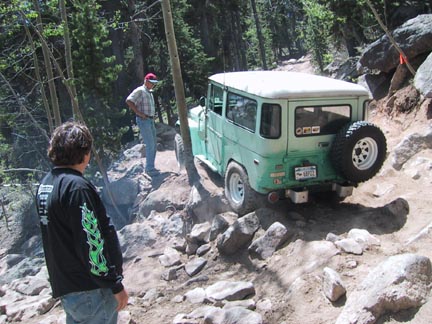 Jeff Zepp was first and seemed to take as good a line as any - in one motion, bumping and grinding his way over the obstacle. I was next. I tried a little different line, attempting to put my tire right over the first large rock. I was then going to turn slightly to avoid the next larger rock. I knew I didn't want go too slow, stall and get hung up in the middle. So, I kept enough speed. But with the bouncing, I was unable to turn slightly and be precise. I ended up going straight over the second larger rock as well. I hit a few things underneath and drug my receiver hitch behind me, but cleared it in one sweep similar to Jeff.
Glenn took a slower approach in his FJ60. He seemed very skilled and capable using this slow technique. He knew that with his lower overall clearance and longer wheel base he could hit hard and break something if he went too fast and wasn't careful. However, also due to his low clearance this would be more difficult to do in a such difficult obstacle and he was soon lodged in the rocks. He required some back and forth work, spotting and rock grinding to get through. Neil and his friend inched through easily.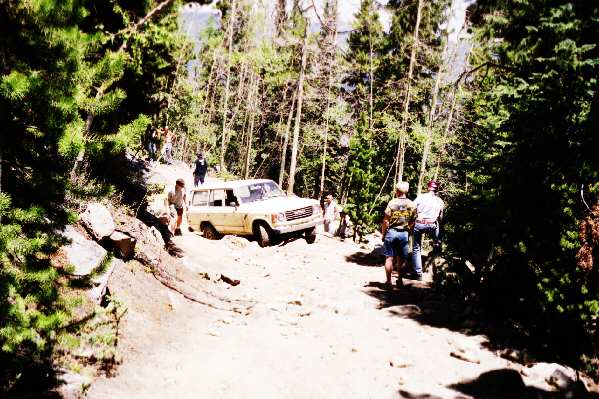 Rising Sun Club Commander Rob Meredith especially impressed the group. In one slow motion crawl, he somehow turned the corner without backing up, and rolled up and over the nastiest rocks with ease. The easiest line was no concern of his. We were all very impressed!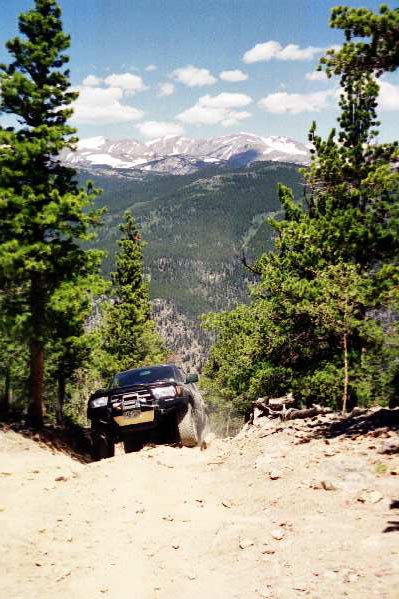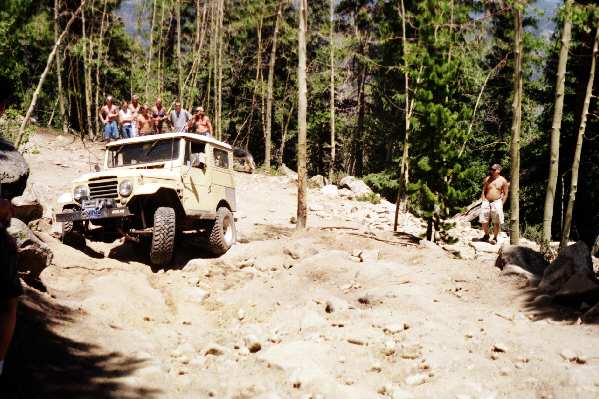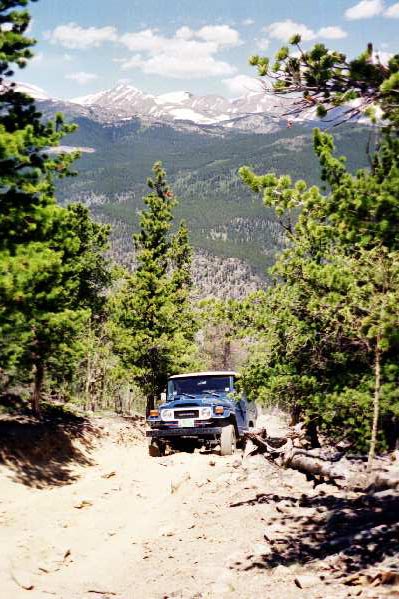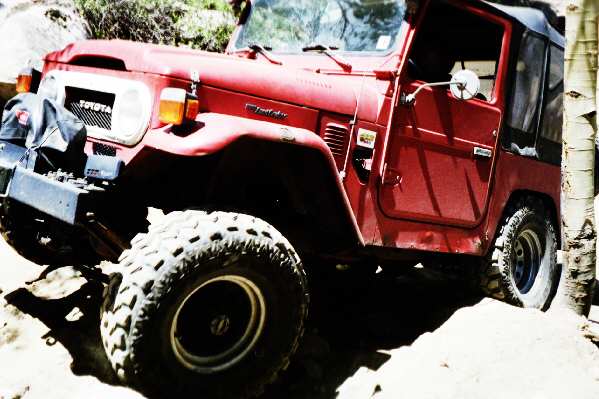 The Rock Garden. This was as difficult as I remember. However, the bypass was much more difficult this year. Jeff Zepp bravely elected not to take the bypass again. He snaked his way through, picking the best line possible. He got hung up several times, but was able free himself under his own power and gracefully continue up, over and around all of these large nasty boulders. He is definitely not afraid to dive his "tank" of a Cruiser through this area. I would think any other type of vehicle with 31" tires would have suffered body damage and perhaps more. I can distinctly remember seeing him hit his stock, stout front bumper square into an a rock several times. And I can't remember it really being damaged at the end of the day. Again, I have seen first hand how strong these old Cruisers really are.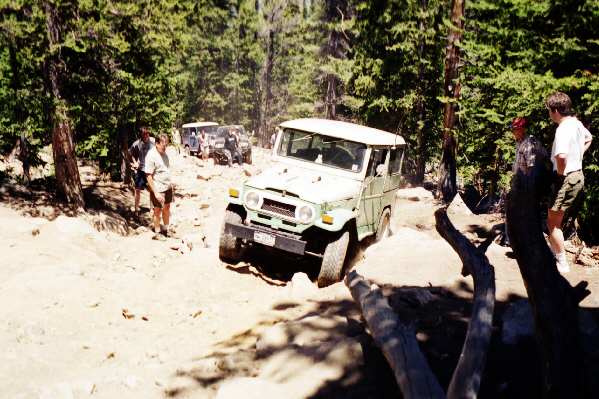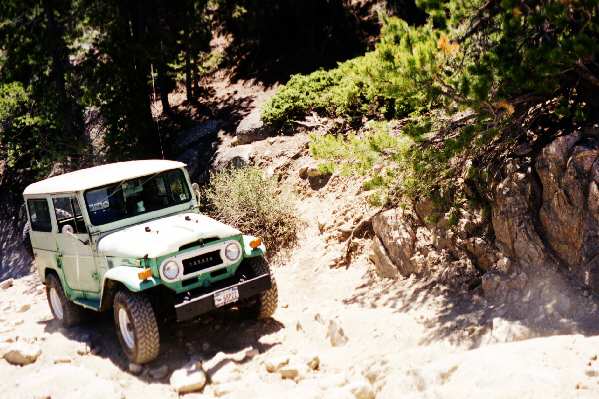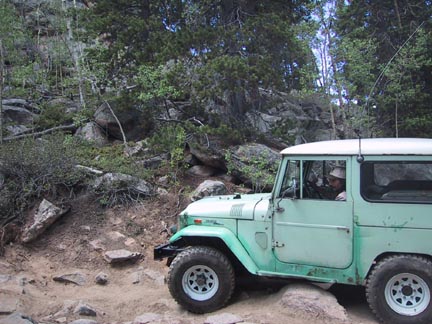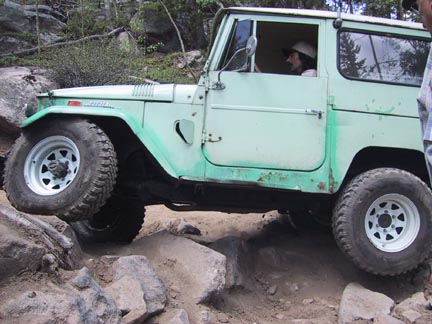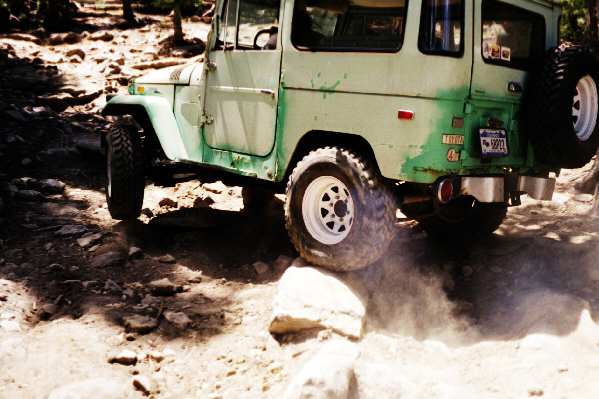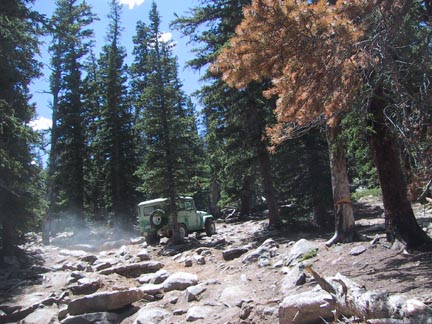 I was next. I decided to take the bypass again this year. I actually felt I could have taken the Garden this time. But just couldn't see punishing my undercarriage any more than was already required to complete this trail. I was able to make two very tight turns perfectly through the bypass, barely missing several trees with my front corners (which took me through in one motion). This time I think I finally overcame my speed issue. I took this as slow as my gears would let me - any slower and I'm sure I would have stalled or spun out. Gene, in his stock unlocked FJ40 also rolled through cleanly. As he did all day. Another testament to this type of cruiser (I want one).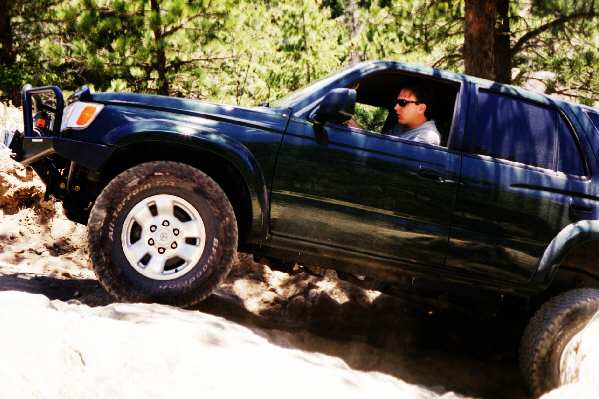 Glenn was unable to corner in and get the best line with his longer wheel base and was soon high centered badly on rocks in the first part of the bypass. It didn't look good as I saw his rear drive shaft sitting on rocks. He used his Hi-Lift jack to no avail. He was eventually winched out by Neil's friend in the Jeep. Glenn's FJ60 struggled through the rest of the Rock Garden. Dragging his undercarriage here and there. He broke a shock mount and suffered some "body" work to his rocker panels. However, at the end of the day, he did skillfully and bravely conquered this trail.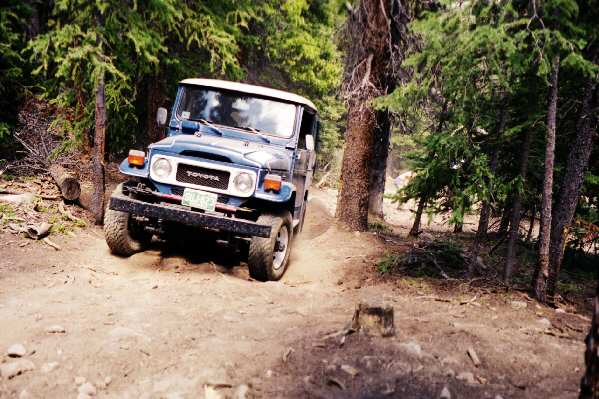 Neil and his friend had finally found something challenging and finally engaged their air lockers. They tackled the largest rock obstacle in the garden and succeeded. Granted, they had to work at it. Using spotters and making several attempts to get up and over. Still mighty impressive. I did see Neal crush his rocker panel a bit. It didn't seem to bother him.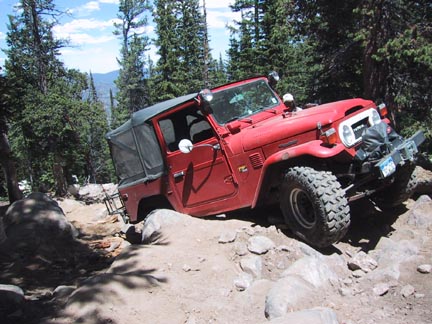 Rob, also went for the large obstacle. He took it at a difficult angle and stood his FJ25 up into the air and over to one side. I couldn't believe it... I thought it was going to roll! But Rob didn't seem to flinch. He just kept it crawling into the air until it finally set down. I suppose any other sudden movement would have tipped it over. A beautiful sight. Quite a testament to what a seasoned and experienced driver can do with a well built Land Cruiser.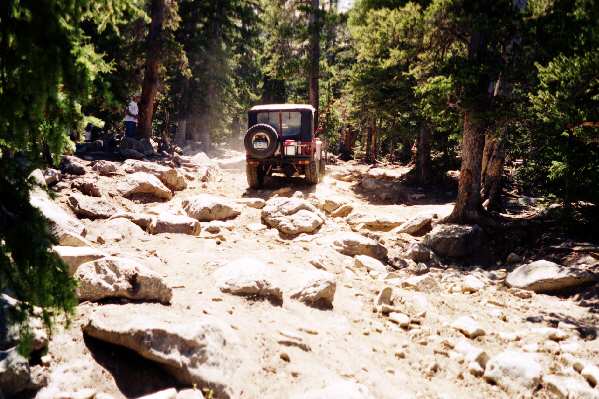 The rest of the trail was still rough and nasty all the way to the top. Again, this section was chewed up and was eroded away worse this year. I would imagine that the difficult 'Rock Garden' portion would soon stretch all the way to the top.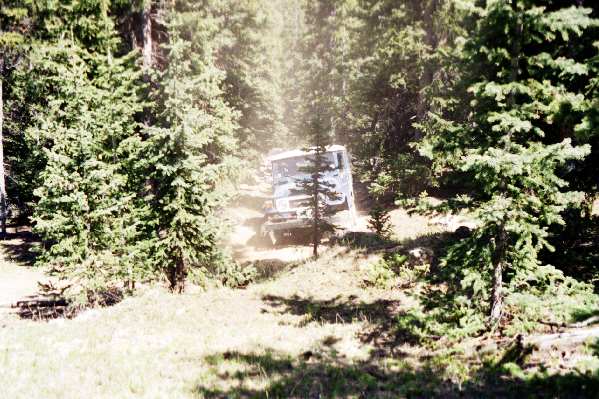 What a great trip and display of Land Cruiser agility and endurance. We were able to push our vehicles and driving skills toward their limits, gaining more valuable experience and of course having a lot of fun in the process.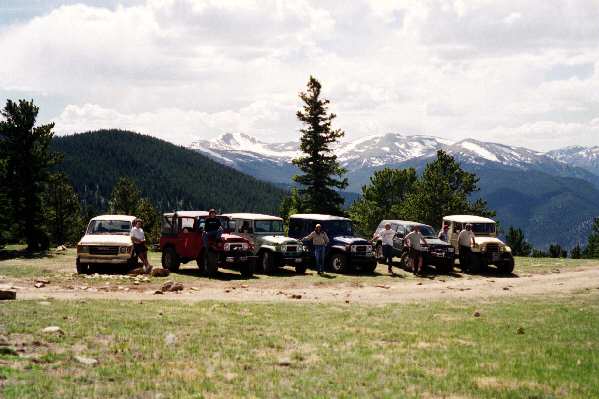 Scott Yoder