Red Elephant Hill - Fall 2001
By Scott Yoder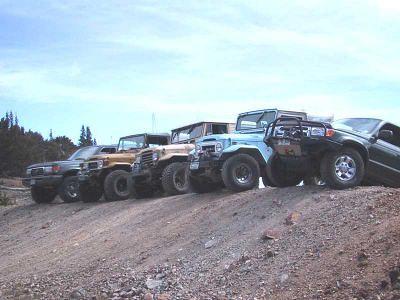 We left the Burger King parking lot at 8:45am Oct. 6th 2001. The line up was as follows:

Matt Lewis - 3rd generation Tacoma - lifted and locked (ARB), 31's
Scott Yoder - 3rd generation 4Runner - locked (electric), 32's
Scott Brown - FJ40 - lifted and locked front\rear (ARB) and 35's
Rob Meredith - FJ25 - lifted and locked front\rear (ARB), 33's
Bruce Minney - FJ40 - lifted and locked (ARB), 33's
Michael Aaron - FZJ80 - lifted and locked front\rear (electric), 33's
Mike Koons (riding and driving with M. Aaron)


We had a good full day of four-wheelin ahead of us. Red Elephant Hill consists of a steep narrow shelf road for the first mile, with several obstacles that proved to be most difficult. Finally there is the upper loop, which gives you the option to return down the Bill Moore lake road.
We completed this same run several weeks earlier. Steve Crase and I had to each winch twice and Bruce Minney once - all on the first section. I was determined to make it without winching this time. I had removed my front sway bar connectors for added articulation, but it was sure bouncy with my stock suspension.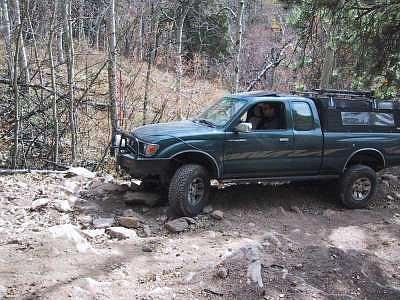 Matt Lewis led us up the first section. The first obstacle got him this time. The tendency in these first obstacles is to take the right line to avoid large rocks, but this puts you dangerously close to the edge of the shelf road. And, with the incline, it's very easy to slip and slide around until your right two tires are pulling you down the mountain. This happened to Matt. Nothing the winch didn't make quick work of though. I managed to stay on the preferred line and creep though this time. So did the rest of the group.
The next obstacle was the most difficult. There were several solid rocks sticking up that had to be negotiated. There was no clear line left or right. And, enough of an incline to make you squirm. Matt expertly got his Taco through it again, yet not without some bumps and grinds. Rob Meredith and Scott Brown drove their well built Land Cruisers through the most difficult portions apparently with ease. It's amazing to see them drive, and see what their Cruisers can do.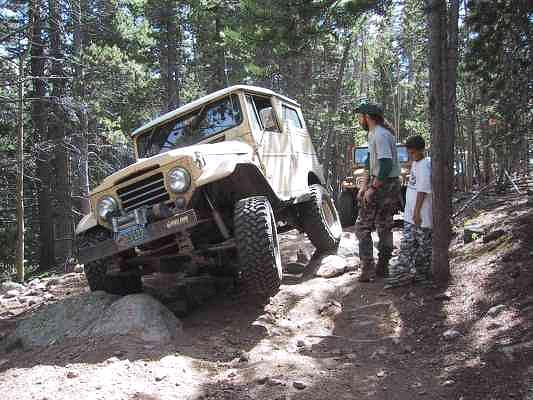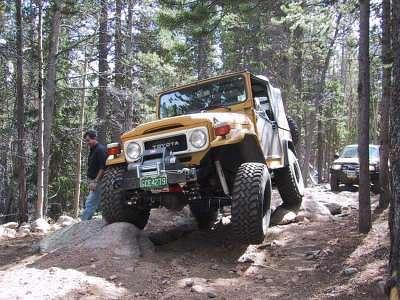 Last time I was on this trail, I got hung up on a pointy rock on the right. It bent my rear trailing arm, right quarter panel (slightly) and exhaust. I was not going to get stuck on this rock again! So I figured I would take the far left. I was soon hung up...I was able to drag my Runner back off the rocks to make another go of it (I knew if I tried the slow approach again I would get hung up and would reaching for the winch cable again).
My plan was to try again with enough momentum to make it through in one sweep. Scott Brown was spotting me... I started bouncing, I tried to apply a little gas, instead I jammed the gas and launched the Runner onto the right two wheels. I saw Scott run down the side of the hill to get out of the way. He said my door came an inch away from a boulder. I didn't think it was that bad, but Scott Brown, being extremely experienced at rock crawling, soon helped me realize that this was not a good move on my part. I knew he was right. I took this as another lesson learned when pushing my vehicle like this.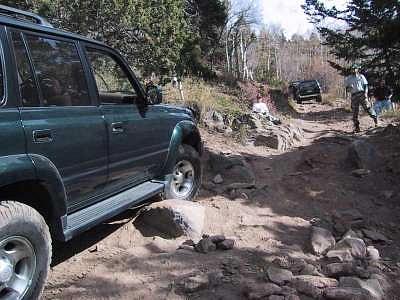 On this same obstacle, Mike Aaron soon had his large FZJ80 hung up of the first rocks. He seemed to struggled for a while with his longer wheel base, but he was able to move around very slowly and carefully with his automatic and two electric lockers. He then completely backed out, and took a different line up left next to a tree. He then spent some more time grinding around until he was up and through the obstacle. Nice work...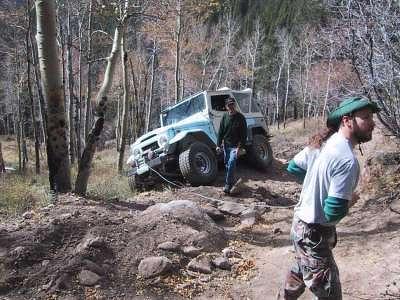 Bruce Minney was next. He negotiated this particular obstacle extremely well again. We climbed back in our vehicles and moved on, but Bruce soon found himself sliding off the side of the road on the next obstacle. He was in a precarious spot! Like the previous weekend, we found ourselves strapping up Bruce's roll bar to a tree, to prevent his Cruiser from rolling while he winched himself back onto the road. Perhaps his trouble was with his tired suspension and worn tires I heard him complain about. We were soon all rolling again, up toward the upper loop.
The upper loop was excellent. Decent obstacles were scattered throughout whole loop. Rob, Scott B. and Michael found a spot to park their Cruisers - leaving their rear wheel way up in the air for a picture. We then found a great spot for lunch. We were all turning our motors off when a nearby hill just tempted us to drive up and over, one by one. Until we were all staged on top for a great picture of our group.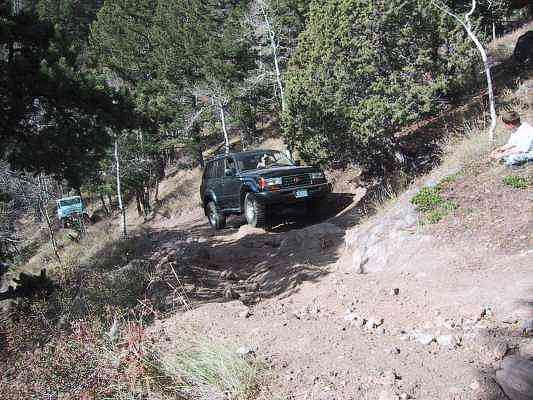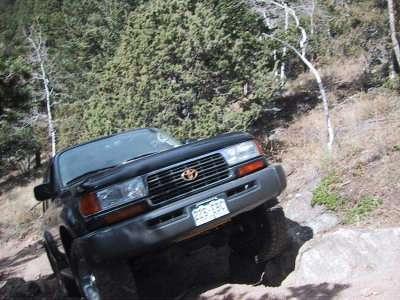 Returning to Bill Moore Lake road, we headed up the Mogul Hill. The moguls were the biggest I've seen on this section. I know my Runner got sideways a little; I just stayed on the gas gently and let my rears dig in and chew their way up. The end of the decent offers a few shortcuts. The upper is a little longer and very rough. Medium and large rocks were strewn randomly. Bruce had been talking about taking this shortcut, so I followed him down it. We then turned around and tackled it uphill. Scott Brown joined us. It was very tricky, but if you stayed on your line and out of trouble it was surprisingly easy. An excellent challenge.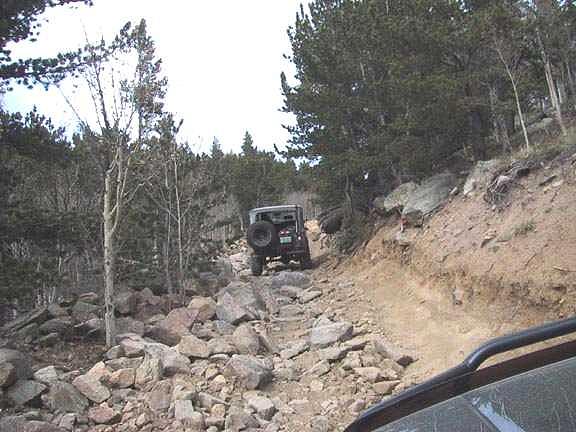 This trip rounded out another excellent Rising Sun Club run in Colorado. We'll be sure to do this run again next year.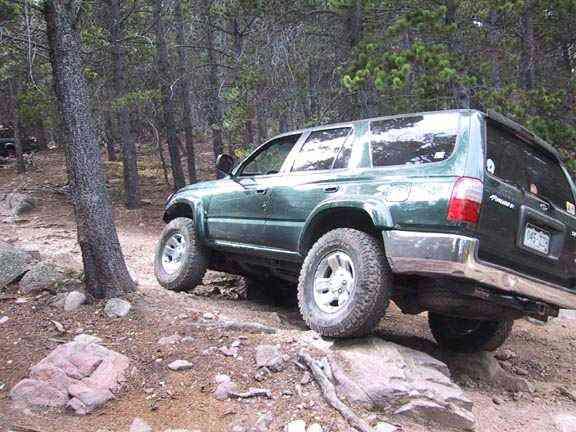 Scott Yoder