Glacier Ridge Rising Sun Trail Run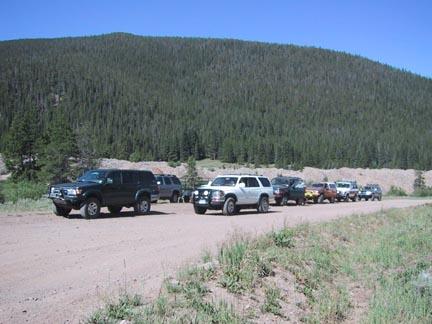 This was one of the most enjoyable runs of the year for most of us. The line up was:
Steve Crase (FJ62)
John Stavola and his wife Anna (Mojo - 97 4Runner)
Mike Brown and his wife and 3 kids (Aurora Sandman - 01 4Runner)
Mike Aaron and his son (FJ80)
Scott Yoder (JadeRunner - 2000 4Runner)
Matt Hinkley - (JX94148 - Mini Pickup)
Scott Bassinger - (SerpaRunner 97 4Runner)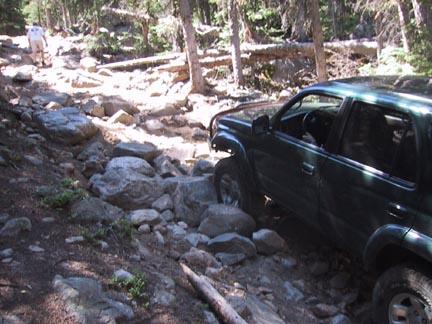 We headed up the Middle Fork of the Swan River east of Breckenridge. We then took a right hand turn up a small hard-to-find trail which leads up Missouri Gulch toward Georgia Pass. This trail holds a difficult rock garden section. The rocks in this section were very loose and randomly placed in the middle of the trail. I have to admit, we rolled a few key "body damage likely" rocks out of the way this time. I had suffered some damage a few days earlier on a pre-run, and it was likely to happen again if not addressed. This section was now extremely fun and doable for us who were lifted and locked.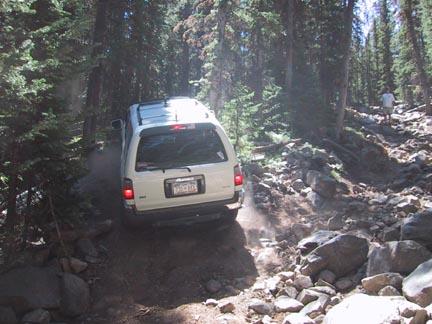 Steve Crase went first with his large FJ62. His rig is extremely well built with front and rear ARB's. He made it look pretty easy. Next Mike Brown and I took our Runners up and through, although we got hung up on several spots.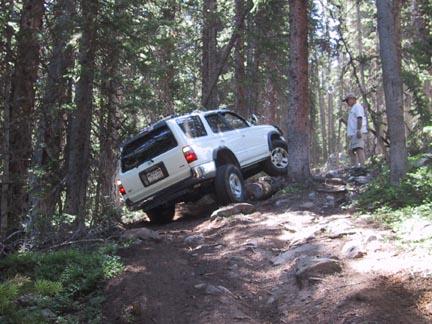 Fortunately we found our way through with the help of our spotters. Mike's Toyota traction control seemed hit and miss at times but ultimately got him through. Mike Aaron in his large FJ80, put his front and rear e-lockers to work.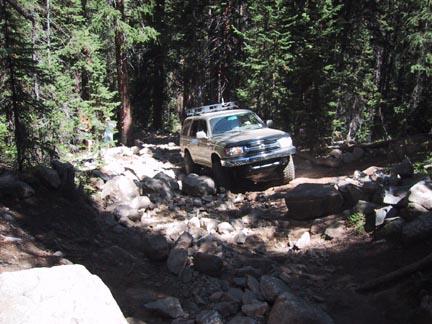 Eventually getting through, even if not as cleanly as I'm sure he wanted. Matt Hinkley was on a mission in his Mini and hammered and bounced through in one motion. He was through this section before you had time to blink.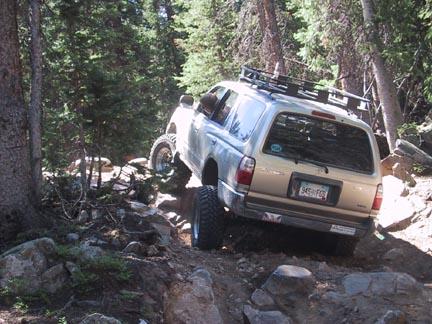 John Stavola and Scott Bassinger wisely took the by-pass, due to their lack of either a locker or a lift. The by-pass was very tight. It had a log in the middle of an off-camber corner that and had to be negotiated.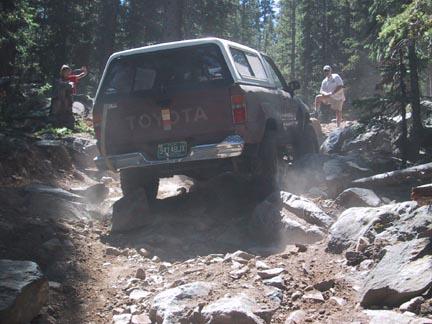 Scott bounced over it the first time and re-positioned it for John. It proved impossible for John to get over. Three of us moved it for him and he was on his way. Both of their 4Runners were impressive throughout the day.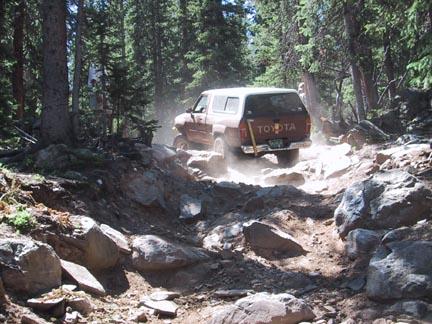 With the difficult section behind us, we drove up and through one of the most beautiful 4x4 roads in the state. Emerging out of the woods above timberline. It was then time for a high mountain lunch.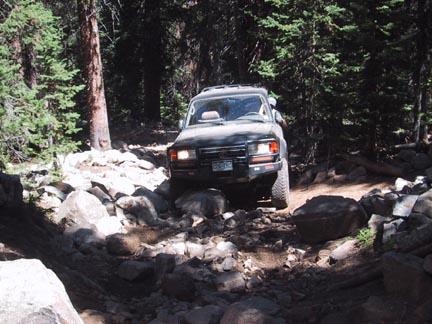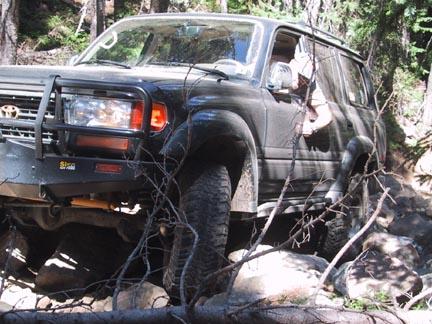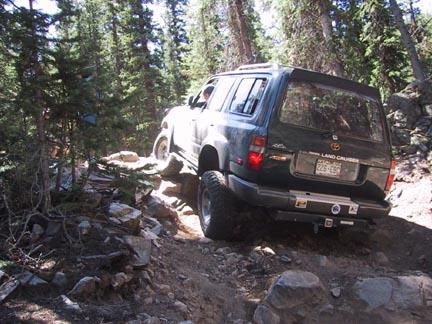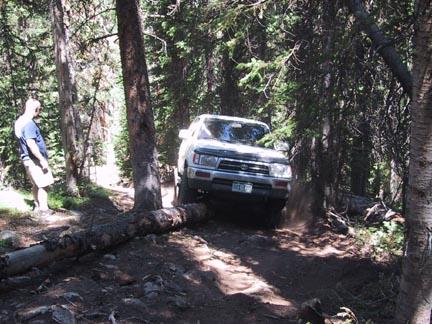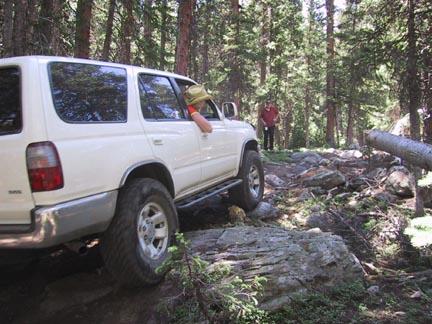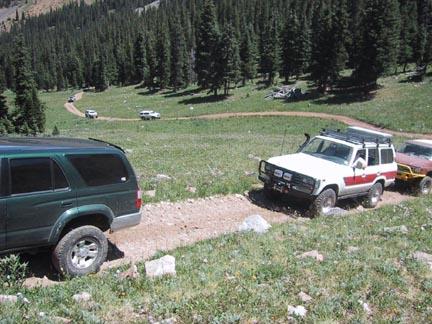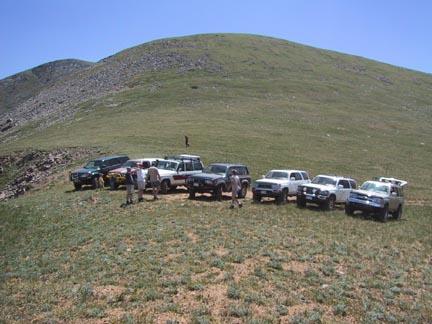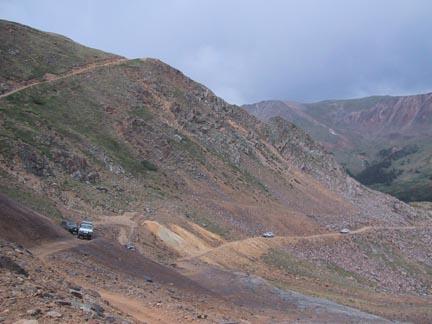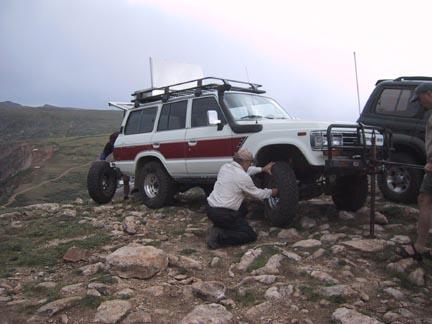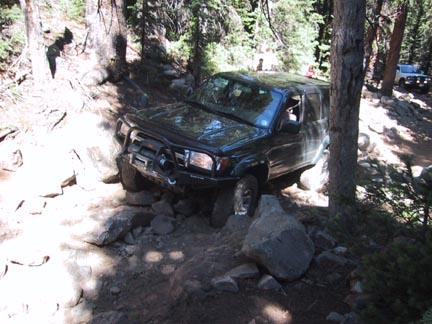 We swung around to Georgia Pass, down the South Fork, and back up the Middle Fork. We all clambered up the very steep SOB Hill, which took us up to the top of Glacier Ridge. Our plan was to go back down via Saints John into Montezuma. However, we heard on the radio that I-70 was closed because of a rolled-over produce truck. So we elected to extend our wheeling expedition and go down Deer Creek, back up Radical Hill, then down via Saints John. This was quite a lengthy extension of our trip. It made for a great full day of wheelin'!

Us 4Runner guys were a bit chatty on the CB. We were constantly trying to compare each others gear ratios, suspension, etc. Throw in Steve's memories of how these trails were in 1973, John's spunky wife Anna, and we were having quite a hoot at 12000 feet!

Radical Hill was very fun. The exposure created by the narrow shelf road added to the pucker factor. Near the top, the road is very exposed. It is steep and has fairly large moguls. This proved to be challenging for John with his open differentials. He skillfully weaved his way through the looks moguls after a few attempts. It's a scary place to get into trouble.

The timberline ridge of the Saints John road offered some challenging spots as well. One particular obstacle was very steep with solid jagged rocks that had to be negotiated. Steve Crase made it over the rocks, but not without slashing a sidewall on his new KM's. This was the second time he cut a sidewall on these tires recently, and he was not very pleased with them.

With his tire changed, we completed the run and ended up back in Montezuma at about 6:30pm. After dinner and beers in Keystone, we aired up in Dillon, and were all home about 11pm. A long day of 4Wheeling, but one to be remembered and repeated.


Scott Yoder